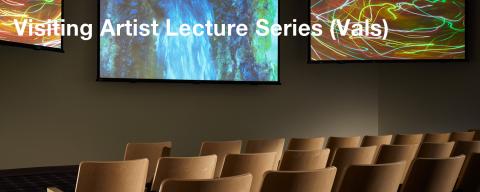 The Department of Art presents the Visiting Artist Lecture Series (VALS). The annual series, organized by graduate students in Art, invites artists, scholars, curators, critics, gallerists and writers to give public lectures and conduct studio visits with students relevant to graduate students' research and practice. The series is presented in a colloquium setting (this year via Zoom), where students engage in in-depth discussions with the visiting artists and scholars.
This series is made in part thanks to support from UCI Illuminations.
2021-2022
Simon Liu 12.3.21 |
2020-2021
Slavs and Tatars 1.13.21 | Patricia Fernandez 1.21.21 | Beatriz Cortez 1.28.21 | Daniel R. Small 2.4.21 | Young Soon Kwak 2.11.21 | Eric Wesley 2.18.21 | Tourmaline 2.25.21 | Paul Chan 3.4.21 | Kavior Moon 3.11.21
View the Visiting Artists Archive for a complete list of visiting artists and scholars.