Stephen Barker named dean of UCI's Claire Trevor School of the Arts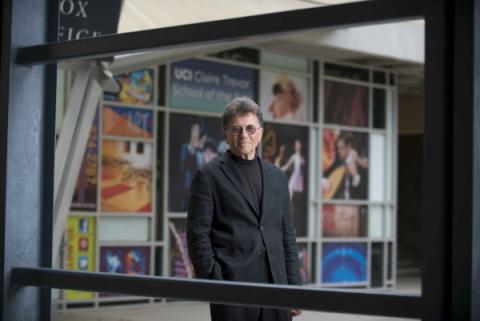 Stephen Barker to serve as dean of UCI's Claire Trevor School of the Arts. In interim role, he fostered faculty diversity, arts/sciences collaboration and outreach.
Irvine, Calif., July 5, 2016 – Drama professor Stephen Barker has been appointed dean of the Claire Trevor School of the Arts at the University of California, Irvine. Serving as interim dean since September 2014, Barker has ushered the school into a new era of excellence, fostering faculty diversity and interdisciplinary collaboration between arts and sciences and working diligently to ensure that UCI continues to be a hub of Orange County arts and culture.
"I'm very pleased to be able to make this announcement," said UCI Chancellor Howard Gillman. "Stephen Barker really understands the university's role in preparing our students for success in their chosen fields; in engaging the community in our dramatic, musical and visual arts; and in helping to introduce our students to the vibrant cultural and artistic community surrounding the campus."
"These are important goals in line with our campus strategic plan," added Provost & Executive Vice Chancellor Enrique Lavernia. "I know we can look for great things in the future from our Claire Trevor School."
As part of his successful outreach efforts, Barker established the Community Arts Council in partnership with UCI Illuminations, an initiative to ensure that all students – regardless of major – have serious and meaningful exposure to the creative arts and to strengthen the connections between UCI and regional arts and culture centers and institutions.
Terrence W. Dwyer, president of the Segerstrom Center for the Arts and a Community Arts Council member, said UCI and the center are united in the belief that arts make a unique and indispensable contribution to a high-quality education and inspiring cultural environment.
"We look forward to working with Stephen and UCI in expanding our collaborations on behalf of both their students and all of Orange County," he said.
Barker also directed the Beall Center for Art + Technology and launched the Dean's Next-Level Initiative, the CTSA's first formal fundraising campaign, which is seeking $1 million to support targeted projects in each of the school's departments. Currently, he's developing a multidisciplinary initiative related to design and mechanical and industrial arts that involves The Henry Samueli School of Engineering and the Donald Bren School of Information & Computer Sciences.
A renowned scholar, actor, director, dancer and choreographer, Barker has worked professionally across the globe and written extensively on philosophy and literary and aesthetic theory. He is a founder of the journal Derrida Today and was on the faculty of the London Graduate School. He previously served as chair of the studio art and drama departments and as associate dean of the CTSA.
Lisa Naugle, chair of the dance department, led the nationwide search for a new dean.
"It became clear to the committee that Stephen Barker possesses the broadest range of experience and strongest record of leadership, integrity and vision for the future of the school," she said. "We are inspired by his multidisciplinary work; his commitment to diversity, student learning, teaching and faculty research; and his engagement with the community."
Barker earned a doctorate in English/comparative literature and literary theory & criticism at the University of Arizona. He holds an M.F.A. in fiction writing from the University of Arizona and M.F.A. equivalents from the London Contemporary Dance School and Studio '68 of Theatre Arts, London.
The real Stephen Barker (center), newly appointed dean of UCI's Claire Trevor School of the Arts, is surrounded by imitators, i.e., his good-natured faculty and staff. (Photo: Steve Zylius / UCI)
Posted Date:
Tuesday, July 5, 2016 (All day)