BODY OF KNOWLEDGE INTERNATIONAL CONFERENCE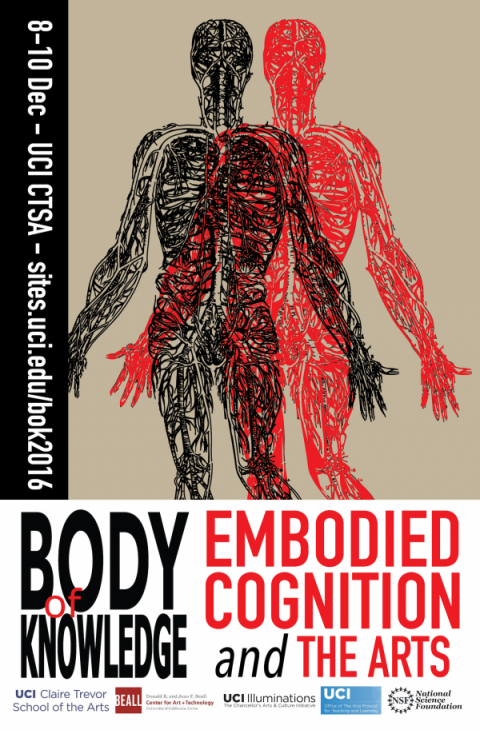 BODY OF KNOWLEDGE INTERNATIONAL CONFERENCEProfessor Simon Penny Directs a Groundbreaking International Conference Featuring World Renowned Scholars in Embodied Cognition and the Arts
 
IRVINE, Calif. – The University of California, Irvine's Claire Trevor School of the Arts (CTSA) will host the Body of Knowledge: Embodied Cognition and the Arts December 8 – 10, 2016. The conference will bring world leaders in this new field together for the first time to focus on the relevance of contemporary cognitive science to our understanding of arts practices. The conference is directed by Simon Penny, Professor of Art in the Department of Art at CTSA. There will be seven keynote speakers, over 60 paper presenters from across the globe, addressing issues in music, drama, dance, media arts, plastic arts, HCI, design and pedagogy, along with theoretical and philosophical matters. Also, the event includes workshops, a performance program and a specially curated art exhibition at the Beall Center for Art + Technology entitled Embodied Encounters co-curated by David Familian and Simon Penny.
"I initiated this project as a result of a strong conviction - which has grown through 25 years of practice and research – that internalist paradigms only confuse attempts to discuss creative, intelligent practice," stated Prof. Simon Penny.  "For much of the last century, explanations of the cognitive dimensions of arts practices have been unsatisfying, and this is because internalist paradigms provide few useful tools to discuss embodied dimensions of cognition. The conference attendees and presenters have come to this field of inquiry from wildly different directions. Some are from a background in practice, others from a background in theory. We are Dancers, Actors, Artists, Musicians, poets, designers, Art Historians, Anthropologists, Psychologists, cognitive scientists, neuroscientists, philosophers and many others."
Professor Penny is an Australian practitioner in the fields of Digital Cultural Practices, Embodied Interaction and Interactive Art. For over three decades, he has developed custom digital and robotic systems for interactive installations. The systems address critical issues arising at the intersection of culture and technology, and are informed by traditions of practice in the arts, including sculpture, video-art, installation and performance; and by theoretical research in enactive and embodied cognition, ethology, neurology, phenomenology, human-computer interaction, ubiquitous computing, robotics, critical theory, cultural and media studies. Over the last two decades, his research has addressed questions of embodied cognition with respect to arts and cultural practices.
The conference will host over 175 academics from around the globe, bringing together the top minds in the arena.  Keynote presentations will be given by world leaders in the field including Antonio Damasio, Evan Thompson, Erik Myin, Giovanna Colombetti, Maxine Sheets-Johnstone, Anthony Chemero and David Kirsh. Attendees include cognitive scientists, neuroscientists, philosophers of mind, physiologists, psychologists, philosophers, anthropologists, computer scientists, artists, musicians, dancers, actors, and designers who will explore emerging cognitive neuroscience and theories of embodied cognition. The goal is to develop new discourses around arts practices by interfacing traditions of practice with emerging paradigms of Embodied (and Enactive, Situated, Distributed, Extended) paradigms of cognition. The exchanges in this conference promise not only enrich the theory of arts and cultural practices, but also enrich cognitive science research and provide resources relevant to Human Computer Interaction and other aspects of design.
The Body of Knowledge – Embodied Cognition and the Arts Conference has received generous support from the Science, Technology, and Society Program in the Division of Social and Economic Sciences, National Science Foundation (NSF).  The conference is hosted by UCI Claire Trevor School of the Arts. Additional sponsors include the Beall Center for Art + Technology, UCI Illuminations and the Office of the Vice Provost for Teaching and Learning.
More information and useful links may be found on the conference website at http://sites.uci.edu/bok2016/
DOWNLOAD THE PRESS KIT
Posted Date:
Wednesday, December 7, 2016 (All day)