Alumni Profile: Samira Yamin, M.F.A. '11
By Allyson Unzicker, Associate Director & Curator, University Art Galleries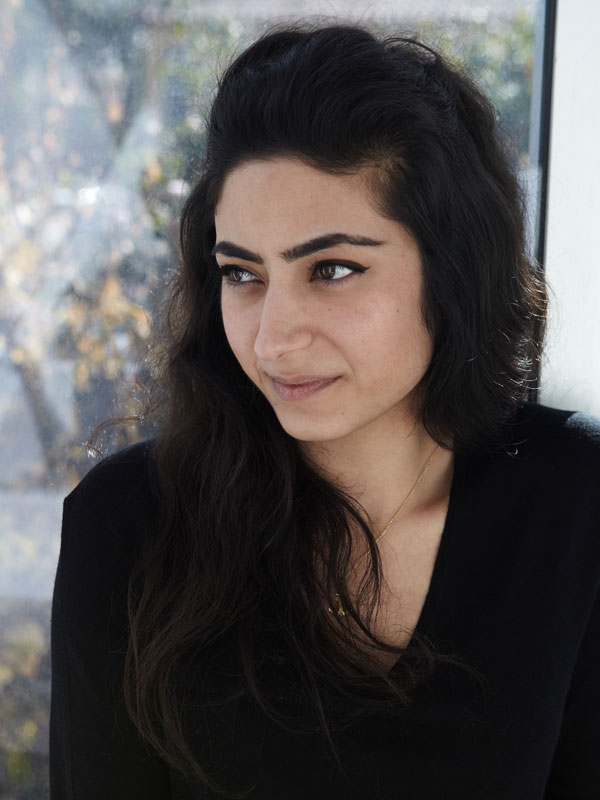 Samira Yamin, M.F.A. '11, is an Iranian-American artist based in Los Angeles who uses war photography as her medium. As an Iranian American who felt disconnected from depictions of Iraq and Afghanistan in the media post 9/11, she was inspired to incorporate the imagery into her practice. In her decade-long series Geometries, she repurposes the pages of TIME magazine by painstakingly cutting sacred Islamic architectural patterns directly onto them. These intricate geometric carvings are crafted by hand using a light box and an X-Acto knife, often taking her months to complete. Geometries challenges and criticizes the narrow perspective in American news and media on the Middle East that depicts solely images of war, violence and death. By meticulously embellishing the magazine pages with traditional Islamic patterns, Yamin creates a structure in order to break apart this narrative of chaotic violence. Yamin's obsessive and time-consuming method is a poetic meditation on the truth of an image.
Yamin's process of obfuscating images is explored further in her most recent series Refractions. Rather than carving into the pages of TIME magazine as in Geometries, she carves optical glass and places it atop the pages in order to refract images of the Syrian Civil War. In order to understand the optical image in its entirety, the viewer is required to move around its surface. This visual disconnect between the image and its sculptural exterior disallows the ability to see the work from a single vantage point. Rather than becoming desensitized by mass media images of war, the sensitivity of Yamin's handiwork urges us to take another look, a slower and more critical one.
During the pandemic, Yamin was included in two exhibitions, To View a Plastic Flower (Feb. 13–April 19, 2020) at the Los Angeles Municipal Art Gallery (LAMAG) and Yesterday's Tomorrow: Selections from the Rose Collection 1933–2018 (Feb. 7, 2020–Sept. 13, 2020) at the Rose Museum. The concept behind the group exhibition To View a Plastic Flower at LAMAG centered on the representation of war in the media. As this topic is rarely covered in exhibitions, its forced closure shortly after its opening was tragic. Children's programming was cancelled and artist talks and panels were quickly moved online. As galleries and museums continue to close as they struggle to accommodate in-person experiences due to stay-at-home measures, Yamin is not readily inspired to move towards online representation of her work in order to meet current virtual demands. Rather, she accepts that moving slowly is a part of her process. Due to the optical nature of her most recent series Refractions, the work demands an in-person experience.
She feels strongly that such work cannot simply be translated onto a computer screen. When addressing these concerns, she stated, "To fix this work, the subjects of the photographs again, would be to undermine the ethical care with which I've approached the subject of each image. I understand and accept, of course, that representation is a fact of life, but to have the work live exclusively there is not a compromise I'm not willing to make. If I decide to move to a virtual context, I'd make work specifically for that venue."
As a result of the pandemic, Yamin, like many artists, is experiencing a moment of pause as art fair representation and discussions around future exhibitions have been cancelled or postponed. Some of the galleries she planned to work with have closed altogether. Despite these drawbacks, the pandemic has been a moment of contemplation and introspection for her. The uncertainty presents a rare opportunity to reflect and process a shared global crisis. Yamin's poetically political practice provides an important and contemplative lens for us to meditate on this tumultuous moment.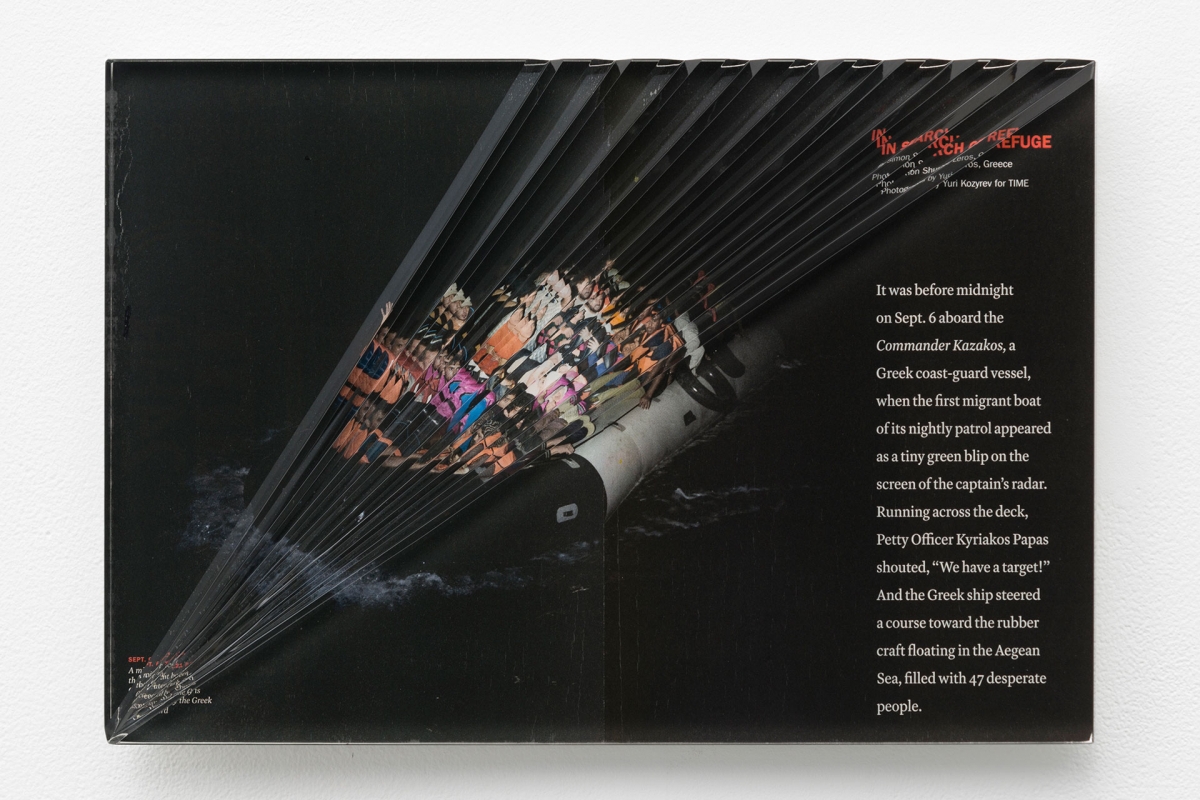 Image: "(Refractions) September 21, 2015 - I," 2018. Wheel-cut Optical Glass, TIME Magazine pages, Sintra. 15 3/8 inches x 10 3/8 inches.
Samira Yamin received her M.F.A. from UCI and a dual B.A. in Sociology and Studio Art from UCLA. Yamin's work has been exhibited nationally including solo exhibitions at the Santa Monica Museum of Art (now Institute of Contemporary Art, Los Angeles) and PATRON Gallery in Chicago, and her work was recently acquired by the Los Angeles County Museum of Art. In 2016, she was awarded the Painters & Sculptors Grant from the Joan Mitchell Foundation and in 2017, she was the recipient of the California Community Foundation (CCF) award, a one-year fellowship given to outstanding Los Angeles County-based visual artists through the Fellowship for Visual Artists. Yamin currently lives and works in Los Angeles.
Are you an Arts Alum? Learn ways to stay connected at www.arts.uci.edu/alumni. Questions or stories? Contact artsalumni@uci.edu.
Please visit our secure direct giving page and make a gift to support Art today!
CONNECT - Fall 2020