Ella de Búrca's FLAT AS THE TONGUE LIES bids sound, text, kinetic sculpture and video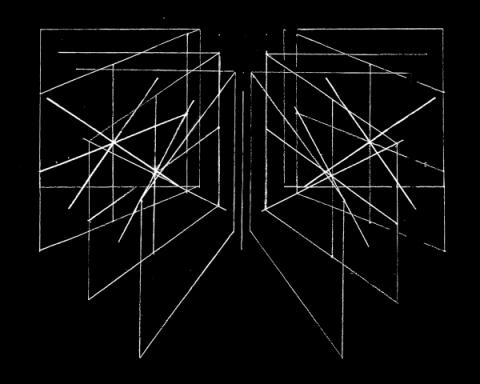 UC IRVINE'S CLAIRE TREVOR SCHOOL OF THE ARTS PRESENTS FLAT AS THE TONGUE LIES, A SOLO EXHIBITION BY ELLA DE BÚRCA
IRVINE, Calif. – UC Irvine's Room Gallery is pleased to present new works by Ella de Búrca in her first U.S. solo exhibition Flat As The Tongue Lies, as a part of the University Art Galleries (UAG) Emerging Artist Series. The exhibition will open Saturday, September 29, 2018, with a reception from 2:00 – 5:00 p.m.
In Flat As The Tongue Lies, Ella de Búrca presents an installation of sound, text, kinetic sculpture and video. Using the structure of a three-act play, the installation explores the formation of meaning through reading, writing, and speech. The exhibition begins with Prelude, a sound piece that echoes the artist's voice, leading you through a corridor into the rest of the gallery. At the end of passage, you encounter Act I, a text piece projected on a monitor screen and ends with Act II, a play printed as a takeaway for you to read. In the backdrop of the gallery, a stop-motion animation titled Lines is projected, functioning as an abstract visualization of the three-act play. Meanwhile, a sculpture titled Stage moves as if breathing in the corner of the gallery.
In reference to eighteenth-century closet dramas — plays that are meant to be read alone or in a small group rather than produced — de Búrca's exhibition is an imagined stage for a play that is never performed. Flat As The Tongue Lies constructs a space that hovers between interiority and exteriority, and, accordingly, the public and private. The installation is a reflection on current forms of censorship in a moment when male-dominant discourse continues to determine the framework through which women can express narratives about their bodies.
Ella de Búrca works within the medium of performance, sculpture, and poetry to explore how meaning is constructed. She is interested in how we perform as a spectator and observing the unwritten rules for audience engagement within art institutions.
The exhibition is accompanied by a limited print publication with an essay by the curator. 
Posted Date:
Thursday, August 23, 2018 (All day)