Sharon Hayes presents AFTER BEFORE at UCI's Room Gallery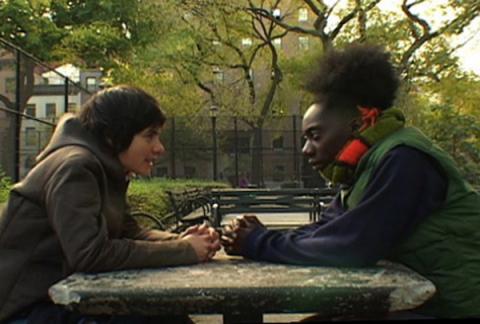 SHARON HAYES PRESENTS HER SOLO EXHIBITION ENTITLED AFTER BEFORE AT UCI'S ROOM GALLERY
IRVINE, Calif. (September 1, 2016) -- The University Art Gallery (UAG) at UC Irvine's Claire Trevor School of the Arts is proud to present – for the second time – the inaugural exhibition of our Critical Aesthetics Program Sharon Hayes' After Before curated by UAG Director Juli Carson. The exhibition will open Saturday, October 1 in the Room Gallery with a reception open to the public from 2:00 pm – 5:00 pm and will exhibit through Saturday, December 10, 2016. 
Commissioned as the first exhibition in the UAG's Critical Aesthetics Program, Hayes's After Before constructed a quasi-fictional, quasi-documentary multi-channel film, in which two figures interview people on the streets of New York City throughout the month of September 2004 – just two months before the 2004 US Presidential Elections – in an attempt to illuminate the state of the nation.  Interrogating mythic and imagined constructions of "nation," "people" and "choice, the interviewers also interrogate their own desire for knowledge and communication.  As an artwork, moreover, After Before engaged and disrupted the libidinal temporality intrinsic to that unique moment of all elections: a single day – much anticipated – that would shape the future of the nation.  In this spirit, Hayes performatively filmed After Before in preparation for her UAG exhibition in the Summer of 2004 before the presidential election to re-elect President George W. Bush occurred that Fall and opened her installation in Spring 2005, after Bush's inauguration. 
Today, we are re-staging After Before along a similar time line, installing it on the eve of what activists and politicians predict will be "the most consequential presidential election in US history" without yet knowing what the outcome will be.  In so doing, is to encounter what Craig Owens called the "allegorical impulse" in art.  In this mise-en-scène, two moments in time, 2004 / 2016, are (re)staged and perceived neither as sequential nor as simultaneous.  Rather, these moments are imbricated in an uncanny temporal duet, one in which two U.S. elections are seen – one depicted, the other evoked – alternately as a moment of truth, a moment of possibility and an already determined fate – a non-moment.  In each instance, After Before continues to present a heterogeneous moment onto which we, as participants, may project contested ideas of what it means to be a U.S. citizen, in both historical and contemporary terms.
"Sharon Hayes's documentary film installation After Before asks us to ponder what it means to be present in a given moment we know is about to become history.  It's a poignant thought experiment about time, right now, on the eve of what expect to be the most consequential presidential election in our life time." – Juli Carson
After Before celebrates the first decade of the University Art Gallery's Critical Aesthetics Program started in 2005 by Juli Carson. As UCI's creative laboratory, the Claire Trevor School of the Arts explores and presents the arts as the essence of human experience and expression, through art forms ranging from the most traditional to the radically new. The international faculty works across a wide variety of disciplines, partnering with others across the campus.  National-ranked programs in art, dance, drama, and music begin with training but end in original invention. Students come to UCI to learn to be citizen-artists, to sharpen their skills and talents, and to become the molders and leaders of world culture. For more information, please visit uag.arts.uci.edu.
Note to editors: Selected high-resolution images for publicity use only may be downloaded from PRESS PHOTOS.
Posted Date:
Thursday, September 1, 2016 (All day)