Arts and Engineering Students Place Fourth in Prestigious National Contest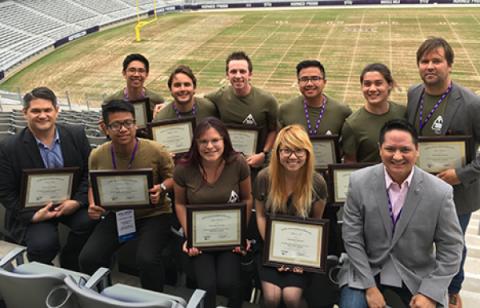 Arts and Engineering Students Place Fourth in Prestigious National Contest
Team Focuses on Environmental Sustainability and 3D Printing
Irvine, Calif. (April 24, 2017) – A group of undergraduate students from the Henry Samueli School of Engineering and the Claire Trevor School of the Arts (CTSA) participated in the TCU Richards Barrentine Values and Ventures® Competition taking a fourth place honorable mention and $2,500 prize out of 56 competing teams. The annual competition is a unique opportunity for undergraduate students from around the world to pitch plans for businesses, products or services that make a profit while also benefiting the environment, the community, or a particular population. The competition is held at Texas Christian University (TCU) in Fort Worth, Texas and presented by the Neeley Entrepreneurship Center.
The UCI team's mission is to make 3D printing sustainable. Their entry in the contest, Closed Loop Plastics, uses only renewable energy to transform plastic waste into material that can be used in 3D printing. The team was founded by environmental engineering students Will Amos and Aldrin Lupisan and included Andrew Hnat (Environmental Engineering); Christian Datu (Electrical Engineering), Derek De Los Angeles and Ian Pareja (Mechanical Engineering); Tucker Moody and Ivette Morales (Art); and Sharon To (Computer Engineering).
"Closed Loop Plastics demonstrates two important ways UCI is reimagining creativity for the twenty-first century: exploring the creative potentials of waste materials, and creating collaborative opportunities for students across disciplines." Notes CTSA Professor of Art Jesse Jackson, the primary mentor for this ongoing project, which began in 2015. Further mentorship was provided by the Antrepreneur Center's Executive Director David Ochi, and TCU's local mentor Jubert Chavez. The project was funded by the CTSA, and UCI's Multidisciplinary Design Program (MDP) through the Undergraduate Research Opportunities Program (UROP).
The team will continue to showcase their entry as finalists in UCI's 2017 New Venture Competition being held on May 12 where will compete for more than $100,000 in awards at the Paul Merage School of Business.  The contest is a cross-campus collaboration with the Beall Center for Innovation and Entrepreneurship, the Paul Merage School of Business, and UCI Applied Innovation.
Image Caption: Closed Loop Plastics team takes fourth place in the prestigious TCU Richards Barrentine Values and Ventures® Competition. Pictured, left to right, back row: Aldrin Lupisan, Will Amos, Andrew Hnat, Ian Pareja; Tucker Moody, Jessie Jackson. Front row: David Ochi, Christian Datu, Ivette Morales, Sharon To, Jubert Chavez.
Learn more about the Closed Loops Plastics Team from the UCI ANTrepreneur Center.
Posted Date:
Wednesday, April 26, 2017 (All day)